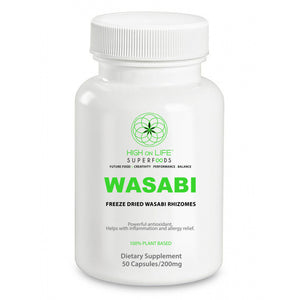 NEW PRODUCT ALERT!!!
HIGH ON LIFE SUPERFOODS IS PROUD TO INTRODUCE OUR NEW "HIGHLITE" COLLECTION
*
*
WASABI (5O capsules/200mg)
DESCRIPTION:
100% FREEZE-DRIED WASABI RHIZOMES
Freeze-drying protects the isothiocyanates from breakdown during the drying process. Delayed-release capsules ensure that the powder is available for uptake when the capsules reach the intestine.
WASABI IS GROWN, FREEZE-DRIED AND MANUFACTURED IN CANADA.
INGREDIENTS:

Freeze Dried Wasabi Rhizomes (Wasabia Japonica): Amount per capsule 200mg(Daily value not established).
OTHER INGREDIENTS: Hypromellose, Gellam gum
CONTAINS NO:
Gluten, Preservatives, Added Colors, Fillers, Sugars,
Synthetic Chemicals, GMOs or Stearates.
USAGE:
As a dietary supplement, take two servings a day with food or as directed by your health advisor.