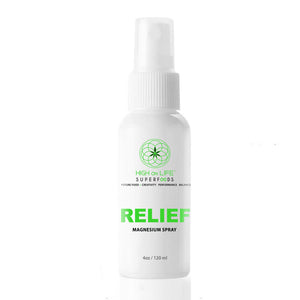 NEW PRODUCT ALERT!!!
HIGH ON LIFE SUPERFOODS IS PROUD TO INTRODUCE OUR NEW "HIGHLITE" COLLECTION
*
*
*
 RELIEF (Magnesium MSM Spray)
DESCRIPTION:
This bio-available form of Magnesium combined with MSM (Plant Sulfur) and Essential Oils is extremely effective for the relief of muscle aches & pains.
120 ML
INGREDIENTS:

Magnesium Chloride (Approx 1000mg per 5ml/1 teaspoon) Trace amounts of: Lithium Boron Mono Atomic Gold and Silver Plus 84 Ionic Angstrom-sized minerals. Lavender Essential Oil.
DIRECTIONS:

Apply to feet and back of hands or anywhere you have pain or numbness. 
Avoid sensitive areas such as eyes and other mucus membranes. 
Dilute with lots of water if you experience irritation.