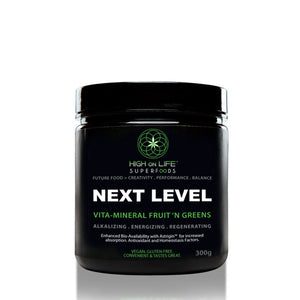 SHIPS TO U.S.A & CANADA ONLY
Description:  NEXT LEVEL is a synergistic blend of whole food vitamins, co-enzyme minerals, phytonutrients & key building blocks made with proprietary processes for clearing the terrain & balancing the pH. NEXT LEVEL provides anti-inflammatory & anti-oxidant support from free radical damage for maximum cellular: hydration, oxygenation, detoxification, regeneration, relaxation & DNA expression. NEXT LEVEL also supports increased mineral chelation, cell wall permeability & nutrient utilization while neutralizing heavy metals, chemical toxins & non foods. NEXT LEVEL plays a critical role in creating and sustaining energy production & availability through increased Adenosine Tri-Phosphate (ATP) or biochemical activity to the cells, balancing PH, the immune, endocrine & nervous systems for optimal hydration & health.
Servings: 30 @ 10g/1 tbsp serving
Ingredients: *alfalfa, *barley grass juice powder, *wheat grass juice powder, *hemp protein powder, *raspberry powder, *blueberry powder, *blackberry powder, *cranberry powder, ascorbic acid, calcium ascorbate, magnesium ascorbate, MSM, fulvic/humic acid powder, boron, Astragin™.  (*certified organic)
Usage: Take 1 tablespoon with water or fruit juice in the morning or 30 minutes before meals.
Natural ingredients sometimes settle so we suggest shaking the container before use.