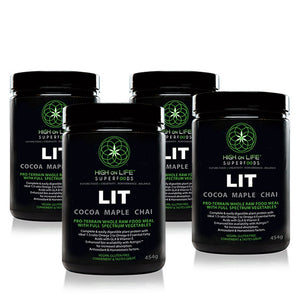 Buy 4 Units of LIT get one FREE High On Life Shaker Bottle ($15 value), while supplies are in stock! Why waste money and time when you know you love LIT!? Stock up on our flagship product, get freebies and get free shipping. Win, win, win!
SHIPS TO CANADA & U.S.A ONLY
USE CODE QUADPACK AT CHECKOUT
DESCRIPTION: LIT™ is a simple and amazingly satisfying foundational whole raw-food blend, containing the finest synergistically-combined and super-concentrated ingredients to fill the 'nutrient deficiency void' created by our present 'soil-depleted food chain.' Its ingredients are primarily concentrated vegetable powders on a hemp-protein base, made from proprietary processes which keep the foods as close to the perfection of nature as possible.

'Pro-Terrain' means pH and nutrient-balanced to offset the low pH (acidosis) and malnourished state common in our society. This creates an energetic matrix that supports the body's increased utilization of essential nutrients and "homeostasis", the balanced internal environment which enacts the body's innate intelligence for energizing, regenerating, weight-balancing and cleansing.
INGREDIENTS: *Hemp protein, *alfalfa, *spinach, *carrots, *beets, *kale, *cocoa powder, *maple sugar, *chai spice blend, *stevia, *natural maple flavour, *natural chocolate fudge flavour, Astragin®. (*certified organic)
                       100% CANADIAN HEMP . PLANT BASED

USAGE:  Add 4 scoops to water, fresh organic juices, non-dairy beverages or smoothie recipes and shake, blend or stir well. Let sit for 5-10 minutes to re-hydrate.
Natural ingredients sometimes settle so we suggest shaking the container before use. 
These are Natural products and taste, colour and smell may very. This current run is very potent organic ingredients with less sweetness. We suggest, if you want to add sweetness to use unpasteurized honey or stevia.