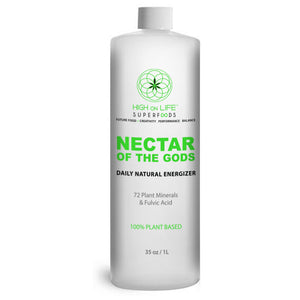 NEW PRODUCT ALERT!!!
HIGH ON LIFE SUPERFOODS IS PROUD TO INTRODUCE OUR NEW "HIGHLITE" COLLECTION
*
*
*
NECTAR OF THE GODS (LIQUID PLANT MINERALS & FULVIC ACID)
DESCRIPTION:
A unique combination of more than 72 trace elements with fulvic acid (removes heavy metals) from a rare prehistoric plant source.
One of the world's best products to ever be created naturally. Using one ounce daily will detoxify, revitalize and energize your body. It is 100% bioavailable and negatively charged.
Available in 3.78 L, 1L, 480 ML, 240 ML sizes